Recycling
The Archbald DPW crew picks up recyclable items. By recycling, you can help control the cost of garbage collection by saving dumping fees while helping to save natural resources. Recycling containers are issued to each home. DO NOT use recycling containers for anything other than recycling.  Any trash placed in recycling containers will not be picked up, it will be left at the curb.  Lost and broken containers can be replaced by calling the Zoning Officer at 570-876-1800.
Recycling Pickup Days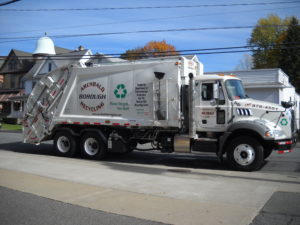 Archbald Borough recycles Monday-Friday.
What to Recycle
Glass – Bottles and Jars only. No mugs, glasses, windows, etc.
Cans – Aluminum and Steel(Tin)
Plastic – Bottles and Jars:  milk, soda, water, juice, energy drinks, detergents, cleaners…… No cups, bags, toys, plant pots, etc.
Please put those items in the green containers. Please rinse out food and beverage containers.
The following cannot be recycled: Food wrappers, paper or foam dishes/cups, snack bags, straws, utensils, wraps, film, toys, plant pots….
Paper – Office/Computer paper, mail, envelopes, newspapers, phone books, magazines, catalogs, and brown bags all go in the blue containers. Any shredded paper can be put into a clear bag and tied.
Cardboard – Heavy shipping boxes and light weight boxes (cereal and crackers-please throw out liners and flatten), paper towel rolls and pizza boxes. These items also go in the blue container. Larger boxes, please flatten and bundle.
Recycling Calendar:
Recycling

What NOT to Recycle
Foam containers, plastic bags, bakery boxes, light bulbs, window glass, drinking glasses, ceramic cookware, flower pots, paint cans, motor oil, chemical containers, food wrappers, bubble wrap, and books.
Here is a printable for your convenience: Environmental Office Recycling Brochure 2020

Please do not place any garbage in recycling containers
Electronics – Residents cannot place any televisions, computers or any electronic devices curbside for trash collection. These items will not be picked up by J. P. Mascaro or the Borough. The Covered Device Recycling Act requires that these electronics be recycled.
Presently, all electronic items can be recycled at the Lackawanna County Recycling Center at approximately $1.85 per pound. Operating hours are (Monday to Friday) 7am to 3:15 pm and Saturday from 7am to noon. Phone: 570-963-6868. More information is available at recycling. lackawannacounty.org.
A downloadable copy of the Commercial-Institutional Recycling Report can be found on the Forms and Ordinances Page.